Introduction
Whatever the sector may be, digital marketing has changed businesses across the world. However, none is more impacted by digital changes than the hotel sector. The majority of the clients in this market are leisure and social travellers who spend a lot of time online looking for destinations, lodging options, and dining establishments. Digital marketing is now the most effective approach to connect with potential consumers, build a brand, and amass a following of devoted followers.
Team IHA LLP which stands for I Have Answer (IHA), is a firm with top-notch expertise in digital marketing and works tirelessly to provide its clients with the best web solutions. Over the past 16 years, the team has expanded tremendously and influenced people's thoughts. With customers in more than 15 countries, the company is regarded as reliable for assisting companies in increasing their worth.
How can digital marketing help your resort/hotel business?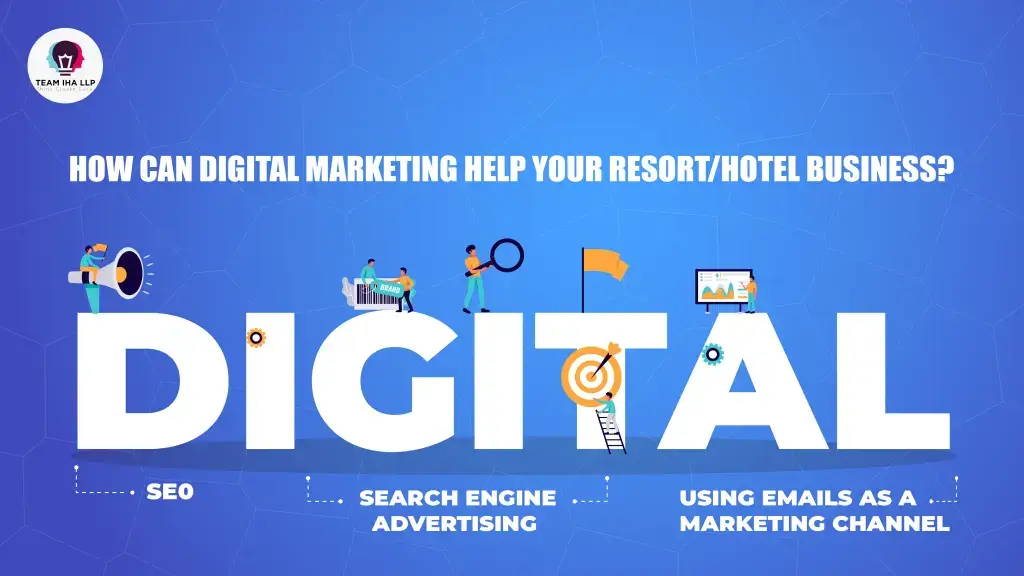 Search Engine Optimisation
Currently, search engines account for more than 80% of all internet traffic. As a consequence, there is a good likelihood that when potential customer searches online, they will click the results that are shown on the first page of the SERP. If your website falls within this bracket, you will benefit from the increased traffic that might result in a paying visitor.
At Team IHA, we take care of all your SEO needs, from Google Ads to creating SEO-oriented websites we cover it all!
Search Engine Advertising
It might take a lot of effort and time to rise to the top of search results pages. As opposed to SEA (Search Engine Advertising), which enables you to get these results nearly instantly. Team IHA is a pioneer in the work of Search Engine Advertising (SEA). Team IHA creates bespoke SEA solutions for your hotel business so that it stays at the top of the chain all the time!
Using emails as a marketing channel
Despite its antiquity, it is a powerful digital marketing strategy. Therefore, this is a very efficient method for hospitality firms to keep customers. You may routinely let your consumers know about new items and deals by sending them emails. Include information about forthcoming tours, community activities, and exclusive deals for your business. You'll be able to keep getting customers as a consequence. Team IHA guarantees to provide the most creative and compelling services so that customers are never too far away!
Conclusion
The notion of digital marketing is vast and encompasses much more than the principles described above. As previously said, it converges a number of paths to success. Google Ads, managing online reviews, building backlinks via online directories, and SEO optimization are a few more strategies that may be used in digital marketing.
At Team IHA, we provide all kinds of services under the umbrella of digital marketing for the hospitality industry. In the world of huge competitors, earning a place in the market needs to make yourself visible to the customers and we at Team IHA would love to be your partners in this journey. Contact the best digital marketing company to establish the digital footprints of your brand.