Introduction
Whatever the sector, cloud solutions has changed enterprises all around the world. Businesses may now choose a cloud service that would store their data in safe data centres rather than burdening themselves with traditional internal servers to keep data.
Team IHA LLP, which stands for I Have Answer (IHA), is a firm with top-notch expertise in cloud solutions and works tirelessly to provide its clients with the best web solutions. Over the past 16 years, the team has expanded tremendously and influenced people's thoughts. With customers in more than 15 countries, the company is regarded as reliable for assisting companies in increasing their worth.
Why does your hotel business need cloud solutions?
To begin with, cloud solutions has done wonders in the hospitality industry. Utilizing the cloud offers a number of advantages that have strengthened the operations of hotels all over the world, from enhancing operational effectiveness to reducing management expenses. With Team IHA's cloud services you leave behind methods of the past and safely leap into the future!
Major benefits of cloud solutions in the hospitality industry: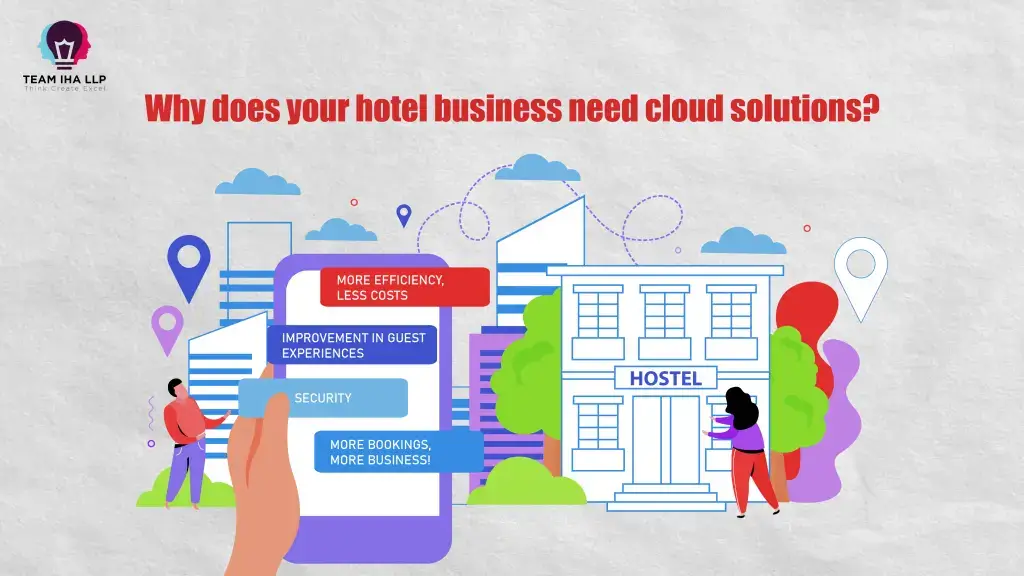 More efficiency, less costs
Hoteliers can gain from cloud solutions by having lower operating, hardware, and energy expenses. Your hotel's requirement for hardware overload is decreased, which significantly lowers your power costs. The hotel sector uses cloud solutions to speed up projects, which reduces costs and increases efficiency. In light of Team IHA's tailor-made offerings you can get the best of cloud services at the best rates!
Improvement in guest experiences
Due to the cloud, guests may now check in at hotels using their smartphones or tablets as well as the front desk. Additionally, switching to the cloud has other advantages, such as faster guest access to goods and services, which only improves their overall hotel experiences. Another benefit of cloud solutions is that it frees your personnel from stationary terminals, allowing them to work more autonomously and productively.
Security
Cloud service providers have a duty and responsibility to carefully monitor security. Compare this to an internal IT department, for instance, which is responsible for managing a wide range of internal procedures, including security to mention a few. You can be confident that your company's data is in excellent hands with Team IHA's committed 24/7 services.
More bookings, more business!
With cloud-powered services like web booking engines that can be linked with hotel PMS, hotels may improve their hotel websites. The real-time update is another important advantage because it speeds up the process, reduces costs, and saves a tonne of time. Now, hotels can concentrate more on the features that will improve the visitor experience and boost the property's earnings.
Conclusion
The field of cloud solutions is developing quickly, and with time it will only become bigger and better. The list of advantages of cloud solutions for the hotel sector includes better customer experiences, enormous cost savings, quicker services and seamless access, software and service security, and increased flexibility. With the present emphasis on safeguarding and caring for the environment for a better tomorrow, enterprises shifting to cloud solutions are making a significant stride forward. Hosting on the "cloud" is also less detrimental to the environment and leaves a smaller carbon imprint.
We at Team IHA would love to be your partners for the next step in your business's journey, contact us now!