Introduction
The introduction of the Internet has expanded the potential to grow the lodging sector. Businesses are now well aware of the advantages of that website development can provide for their industry. They are driven to raise industry awareness and increase online bookings because they are aware of the web's broad significance.
Team IHA LLP, which stands for I Have Answer (IHA), a firm with top-notch expertise in website development works tirelessly to provide its clients with the best web solutions. Over the past 16 years, the team has expanded tremendously and influenced people's thoughts. With customers in more than 15 countries, the company is regarded as reliable for assisting companies in increasing their worth.
Why is a unique web presence important for your business?
The Internet has altered the conventional hotel and resort reservation process. As a consequence, potential customers may evaluate different rooms and the prices offered by different hotels with ease. Then there is the development of computer graphics and the usage of online photography by hotels to showcase the images of their resorts. Thus, potential visitors may see the interiors and exteriors of their hotels and resorts virtually. Customers may now easily obtain information about hotel facilities, room rates, and specials.
It becoming ever more important for businesses in the hospitality sector to keep up with the recent trends and in this journey Team IHA can be the perfect partner for you to take steps at the pace you prefer!
Some benefits of having a unique web presence: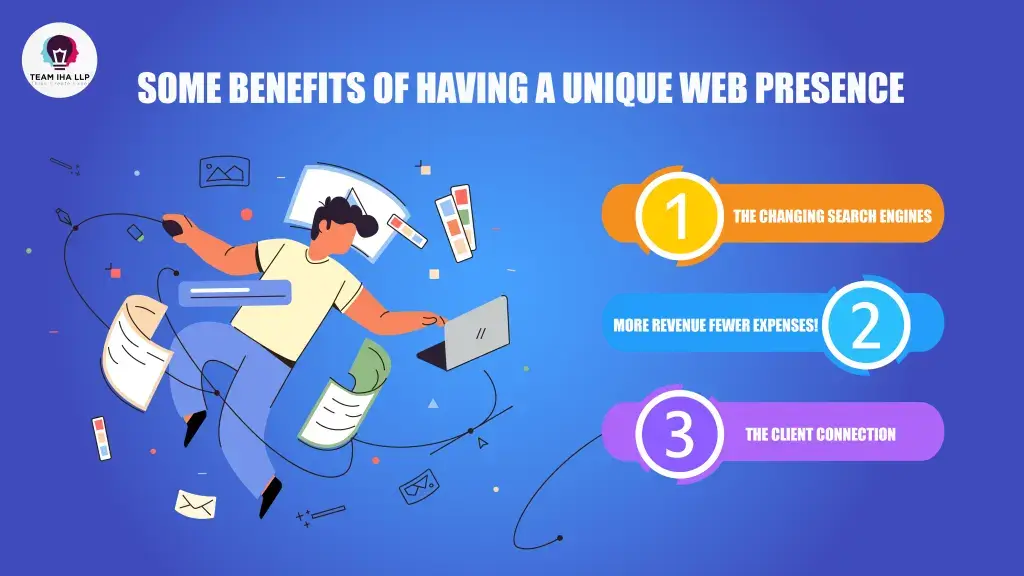 The changing search engines
Web search engines have been widely utilised since the invention of the Internet to locate the best response to any enquiry. On the other hand, every tourist or visitor utilises them to learn more about the location they want to visit and this also includes, unsurprisingly hotels. The guidelines governing how online sites are ranked by search engines are constantly changing.
Additionally, it is crucial for managers of lodging facilities to keep up with search engine optimization trends among tour operators and other media. But there's nothing to worry about when Team IHA has got your back! With Team IHA's world-class services in website development, you can rest assured that your business would never fall behind in the race of attracting customers online!
More revenue fewer expenses!
The number of hotel reservations, customer loyalty, and return on investment all rise when a hotel has a strong website that is optimised for search engines. Additionally, having a website saves staff time by automating tasks like gathering visitor data, filling out forms for proposals, displaying floor plans for meeting venues, and other tasks that can be done online. With Team IHA's customisable services, you can get your dream website up and running in no time!
The client connection
Managers may quickly connect and maintain personal contact with new and returning guests through a hotel's website or online presence. Nowadays, every hotel manager may simply handle online technology. For instance, they may simply upload fresh images or update their websites with updated content. A more advanced content management system made it possible to upload and utilise multilingual material. In this case too, Team IHA's 24×7, prompt services make everything about managing a website super easy and hassle-free.
Conclusion
Hoteliers may succeed in marketing by preparing for every area of internet commerce, staying on top of industry-relevant breakthrough technology, and content management systems. Every day, the IT developments in the hospitality sector advance. Online advertising has revitalised the travel sector. Online communities, Web 3.0, social bookmarking, mobile marketing, and more have all changed how the hotel sector is seen. Team IHA, provides for all website development solutions at the most economical price point, making it a choice for industry leaders in the sector. Get in touch with the best website development company to establish your digital footprints and take your brand to new heights.