Technology Evolving Banking Future

Gone are the days of carrying cash and even cards. Now we can transfer money at the speed of light with our smartphones. The magic is happening due to technology evolving and applications. Team IHA has been serving for years around the globe and has helped multiple businesses grow quickly. Team IHA is the leading business solution provider company in India. Team IHA has tons of professional experts who help your business grow. TAs we all know we are living in an era where applications and websites all digitalization of business must need to grow and reach more customers around the world. Team IHA offers all these services at nominal charges, request a call back here or call here. Now, let's move onto our topic which is Metaverse in banking how is the technology evolving banking future?
Is the metaverse evolving future?
Banks were once the place where banknotes were deposited and withdrawn. The need for visiting ATMs or even carrying cash was then eliminated when ATMs with debit and credit cards entered the picture. What if the following change is the adoption of metaverse technology in banking, given that the banking sector is one of the main industries affected by every wave of digitalization?
Imagine entering a bank branch virtually and using avatars of customer service representatives to help you enter the vault and make a virtual deposit or withdrawal. Imagine having the option to pay with dollars from your savings account, a bank-issued digital currency, or even with tokens from a virtual wallet like Ethereum, banking in the metaverse, then all of these fantastic theories could end up being true.
Metaverse in the banking sector what led to this evolution?
The fourth stage of the banking sector's evolution has begun as of the time this article was written, with NFTs and cryptocurrencies taking center stage. A few banking institutions have simultaneously moved into the fifth stage, known as the metaverse.
Online Banking
In the past ten years, the banking sector has undergone a complete digital transformation. It was divided into two categories: the first involved digitalizing existing processes so that they could be accessed via mobile and the internet, and the second involved creating new customer journeys to satisfy customers' demand for a digital-first experience.
The traditional way of banking
It was a two-tiered banking system dominated by central banks that depended on in-person interactions with clients. The process was notorious for being paper-based, labor-intensive, and lacking in personalized and customized financial products.
Open Banking
The banking sector has made itself available to be connected with third-party services via APIs over the last three to five years. This has resulted in the development of numerous neo-banks and cross-industry marketplace offerings by banks (such as health services, buying and selling automobiles, energy services, etc.).
Digitalized Banking Finance
Blockchain has given rise to a new secure, open-bordered, and quick banking economy with the arrival of Web3. NFTs and cryptocurrencies, which have introduced completely new assets to the financial market, such as art, gaming, and real estate, have a significant impact on this.
Metaverse in the financial industry
Banking is one of the industries where the metaverse has experienced tremendous growth over the last one to two years. The industry is poised for another enormous revolution as virtual banking experiences take center stage.
Advantages of a metaverse in the banking sector
A variety of advantages exist for traditional banking in the metaverse. benefits that open up new financing models in addition to having an impact on customer experience.
Enhancement of current 3D functionalities
Several banks have begun educating their staff on VR because 47% of bankers believe that AR/VR will be a viable alternative to current transaction channels by 2030. For its 50,000 employees, Bank of America, for instance, has created a VR training program that simulates actual customer scenarios. Additionally, BNP Paribas even released a VR app that lets users conduct financial transactions in virtual reality.
Enabling 3D customer and employee experiences will give banks access to more advanced offerings that will allow them to reach out to a new target market and establish their dominance. Here are a few advantages of 3D for banks, to sum up.
Provide customers with the ability to view their balance, pay bills, and transfer funds using AR/VR platforms.
Employee experiences, Foster a sense of community among remote workers as they are onboarded and provide an immersive learning environment through simulated customer scenarios.
Create new products
Numerous opportunities exist to use cutting-edge banking products in the metaverse, such as –
1. Electronic payments
2. A digital twin of digital assets like NFTs and cryptocurrencies
As a result, physical and virtual banks become more interconnected, and banks are given access to new revenue streams.
Various forms of customer engagement
Institutions have the chance to reevaluate how they interact with customers and how they can use avatars to provide empathetic service when they engage in banking in the metaverse.
Opportunities for Banks in the metaverse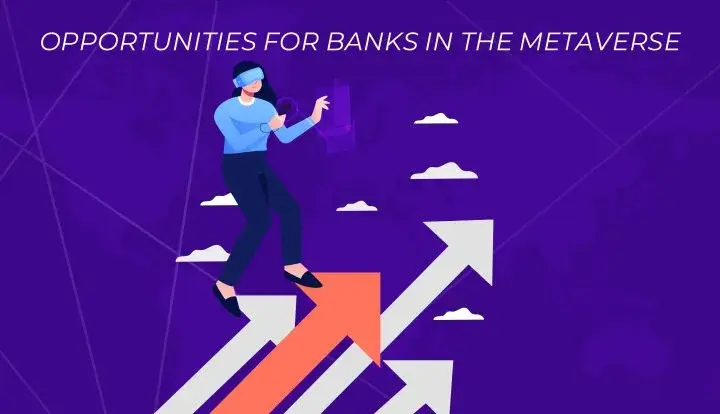 The future size of the metaverse domain is predicted to reach $8 trillion. Banks are essential in the current market valuation. Banks will be able to reimagine how they interact with their customers and with which offerings by using technologies like AR/VR and cryptocurrencies. The banks that have entered the space are still trying to find their place, even though the technology has enormous potential for the banking sector by providing solutions to the numerous problems customers face.
Conclusion
Banking is about to undergo a digital transformation that has never been seen before. Fintech's metaverse is much more than just a development in technology that would create new revenue streams. It is a platform that banks can make use of to engage with their clients emotionally and personally in a new setting. What banks do today will determine how open they are to digitization, especially given that some of the top banks in the world have already entered the metaverse. Banks that don't take the lead now will have to compete for space in other ecosystems.
Team IHA has fintech experts who can guide your business throughout the journey. As a marketing solutions company Team IHA offers all from cloud solutions, telephony, mobile app development, cloud solutions, website development, tech support, call center services, marketing solutions, cyber security, and much more. Call us here and get an expert according to your requirement. Team IHA stands for "I Have Answer" and yes we do. In this digital world, your business needs a marketing solutions company that can assist you toward your goal. Team IHA has tons of trusted clients and partners around the globe, what are you waiting become one by calling us here.