As 3CX has made it easy for organizations to improve various things and work magnificently in different sectors with its many features, today we would be discussing virtual call centers and omnichannel contact centers without wasting any time let's dive in! Before we start just a quick update about who we are. We are Team IHA and we are the Designated Bronze Partners with 3CX and we provide round the clock Technical Support for free, if you are also looking for any such services then reach out to the best 3CX service provider.
What is a Virtual Call Center?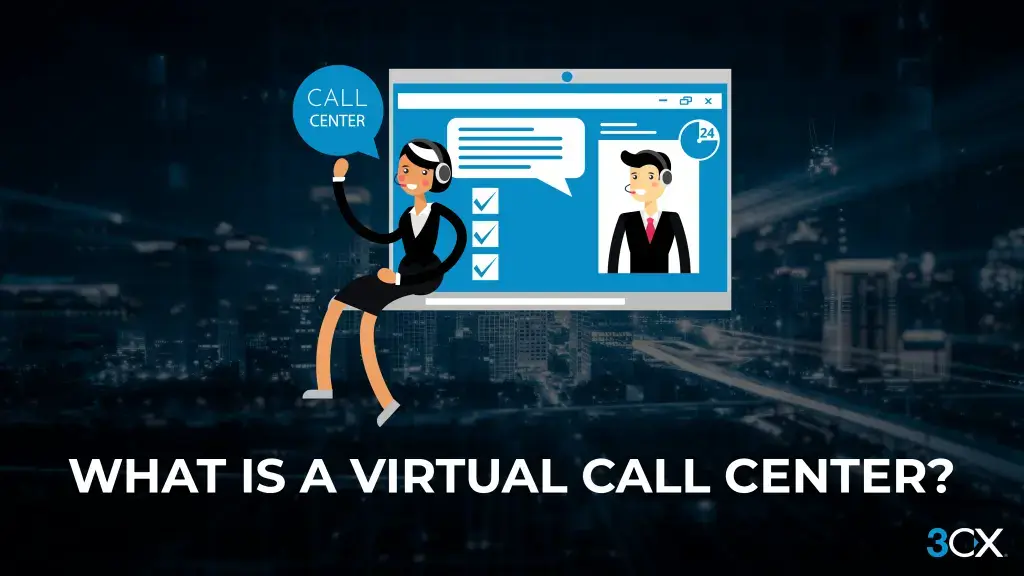 It's easy to comprehend why virtual call centers are becoming more and more common. They not only assist organizations in saving money, but they also improve employee and customer satisfaction levels.
The term "virtual contact center" refers to a call center system that allows staff to work remotely rather than from a separate office. This can involve employees of call centers who work from their homes and having several offices spread out across the globe to benefit from different time zones and labor advantages.
Virtual Call Center has ended the need of having a large plan call center and agents answering the call at the same time. Organizations can outsource the work to different countries having lower employment rates to save money.
Why Virtual Call Center?
Employers can gain several advantages by switching from a traditional call center to a virtual call center model. Less space is needed for workers, which lowers rent and operating costs. Because there are no longer geographic hiring restrictions and reduction in hiring costs of up to twenty-five percent and a rise in the number of available call center agents.
A virtual environment is likewise a desirable prospect for many agents. It results in a better work-life balance because the commute is shorter, transportation costs are cut, and the hours are frequently flexible.
Things to look for in a Virtual Call Center?
Although there is a growing market for remote call center software, not all programs are created equal. Make sure to look for a virtual phone system that offers the following when consulting vendors: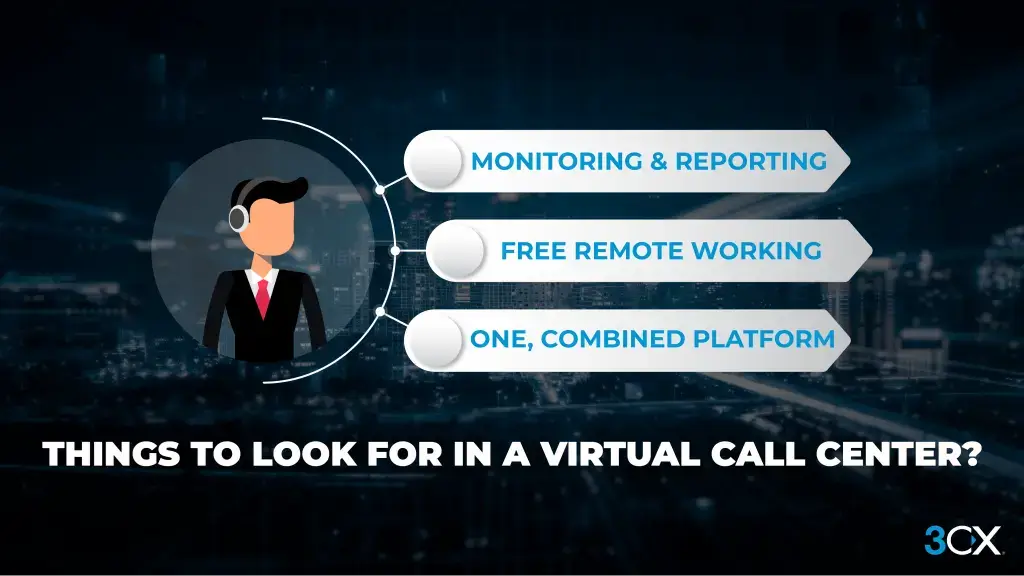 Free Remote Working
For remote workers, many providers impose an additional activation fee or per-user fee. Find a provider like 3CX that offers a virtual model as standard from the start and unlimited users for simple expansion.
One Combined Platform
It's a waste of time when switching between different platforms. When working from a single interface that combines calling, chat, and CRM to provide a true omnichannel contact center solution, call center agents will be more productive.
Monitoring & Reporting
It makes sense for a call center manager to be worried about remote workers' potential for lower productivity. To reduce these concerns and keep an eye on your staff wherever they are, pick a cloud contact center software that offers agent monitoring and training features like listen-in, whisper, and barge.
Team IHA stands for I Have Answer and has been legit to it. Our experts can set up a virtual call center for your organization and when you choose Team IHA with services you will get free lifetime support. Request a call back here and let's set up your virtual call center.
How can 3CX help?
For companies of any size, the 3CX call center module creates a seamless cloud contact center package. Whether agents are based at home or at an on-site call center, 3CX web-based solution enables businesses to deliver personalized and consistent customer experiences across multiple communication channels, which include as:
3CX Live Chat
By obtaining website visitors as they browse your site, you can produce more leads. To assist with sales and support issues, as well as to make appointments, connect immediately from your web client.
Analytic and Comprehensive Tool
Over 30 reports are included in the 3CX Professional and Enterprise licenses to help you track agent efficiency and level of service. Reports can be sent as frequently as needed directly to queue managers' emails.
With integrated live wallboard and switchboard
Agent activity can be easily monitored in real-time by queue managers using the 3CX wallboard. You can manage performance throughout the day by quickly viewing the wallboard's highlights of talk time, calls waiting, callbacks, and other information.
Plug and Play contact center integration
Integrate your call center solution with your CRM, ERP, and accounting system to start calls with a single click. Furthermore, 3CX updates call logs and chat records automatically, ensuring you have a clear audit trail for all interactions. This means you don't have to worry about manually entering data.
Call flows & advanced queuing strategy
Strategic queuing and streamlined Interactive Voice Responses (IVR) from the 3CX Call Flow designer can speed up the customer service process. Choosing from 13 different polling techniques ensures that incoming calls are distributed efficiently. By reducing unnecessary calls, you can give your agents more time to engage in productive dialogue.
Now let's move to an omnichannel contact center.
What is an Omnichannel Contact Center?
An omnichannel contact center combines various communication channels to give customers the option of contacting a company in the way that suits them best. It puts a strong emphasis on meeting customer requirements and giving them a seamless experience. It includes four key features such as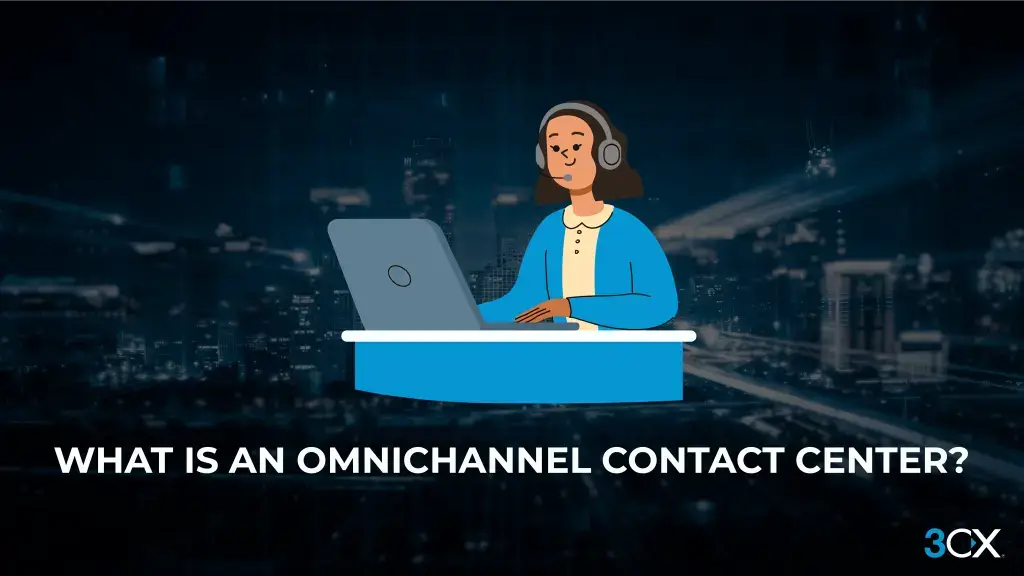 Reporting
For managers to track response times, resolution times, and other important indicators across all channels, a contact center may include call reporting and analysis.
Unified Tracking
Numerous customers will contact you through various channels. An omnichannel contact center tracks customer messages across all channels, enabling access to all client conversations in one location.
Platform Integration
It can be challenging to transform a call center to manage other communication channels unless all of the channels are brought together on a single platform. Having tools that are already built-in, like video conferencing, is one aspect of this. Integrating platforms from other services, like responding to social media messages or syncing CRM contacts, is another consideration. Agents require a tool that will allow them to view all conversations in real-time without having to sign up for various services to check for messages.
Business Digital Channels
Businesses need to understand what customers expect from their preferred communication channels. Email, phone, texting, live chat, self-service options (like online help centers), social media, and video calls are some examples of this. The aim is not to limit customer interaction based on our preferences.
The use of artificial intelligence to analyze vast amounts of contact data and provide insights that might otherwise be missed is the most recent innovation in omnichannel customer experience. To give customers information based on their prior purchasing experiences, interactive voice response or chatbots may also use artificial intelligence.
The terms "omnichannel" and "multichannel" are frequently used synonymously when discussing contact centers. According to general agreement, a multichannel contact center simply refers to having all the necessary channels for communication. According to this, an omnichannel contact center solution refers to unified communication and integration.
Why Omnichannel Contact Centers?
Omnichannel platforms' core competency is the customer journey, especially in terms of delivering a seamless experience. This means that if a customer calls after engaging in a web chat earlier in the day, the answering service representative can see the messages they sent and any replies. As a result, the customer can receive better assistance from the agent. This highlights several advantages of the omnichannel strategy. Meanwhile you can visit the Basic Certification Module by 3CX.
Customer Satisfaction
The two items below point to improved customer service. When customers contact a business, they will not only be able to do so via the channel they prefer but they will be given better service when they get in touch. As a result, customer loyalty will grow. Of course, this will have a direct impact on customer retention and the bottom line.
Improved Insight
A comprehensive overview of all digital channels will be available to management. Contact statistics will include social media, text messages, and other channels in addition to just emails and phone calls. This makes it possible for management to decide with more knowledge.
Agent Productivity
Agents working in contact centers won't have to waste time looking for messages on various platforms. They will have instant access to all communications, which will improve their informational speed. They will also be able to contact those agents to get more information by seeing who else they were in contact with.
Why opt for 3CX as an Omnichannel Contact Center?
Favorite communication channels are integrated into 3CX, which offers customers an omnichannel experience as well as detailed reports and insights.
Video Conferencing
From the web or mobile apps, customer service representatives can start built-in web conferencing and video calls.
CRM integration
Access communications from Zendesk, Salesforce, Freshdesk, Microsoft 365, and other CRMs by syncing your clients.
Fax, Phone & Voicemail
For many businesses, basic phone communication still serves as the main form of communication.
Facebook Messaging
Visitors to a company's Facebook page will anticipate prompt responses. Integration guarantees timely responses from agents.
SMS for business
Numerous people now prefer using SMS to communicate. Agents can respond using a business phone number thanks to integration.
Live Chat
To turn website visitors into leads or to offer another form of customer service, agents can chat with visitors.
Why choose Team IHA?
Team IHA offers various free services when you opt for Team IHA, such as; 24/7 tech support without charging a penny for that, a dedicated account manager, and In-house cloud telephony services. If you wish to set up your Virtual Service Center and Omnichannel Contact Center you can get in touch with Team IHA. We have one motto to serve our customers with the best service.
After setting up a customer center based on 3CX many issues can be rolled up or you might want to shift to another feature or update something you can face problems or need to pay a large sum to the technicians and this could happen several times. Still, with Team IHA you get free lifetime support, Team IHA helps you to reduce cost management and boost your business, without calling we cannot connect right? So click here and request a callback.
With top-notch experts, Team IHA which stands for I Have Answer works magnificently to offer the best 3CX Services and solutions. Over a course of time, Team IHA has been leading in the market and working with tons of clients around the world. Team IHA has changed the growth graph for the organization it works for.
To keep you enlightened and updated. We post blogs related to 3CX. Look over more here, and if you have any doubt then reach out to the best 3CX service provider.