3CX offers are prodigious and the way it has made organization management easy is another scrumptious thing. It is a software-based PBX (Private Branch Exchange) based on the Session Initiation Protocol (SIP) standard. It authorizes extensions to make calls through the PSTN (Public Switched Telephone Network) or via VOIP (Voice Over Internet Protocol) services.
Without PBX, organizational management is impossible as it provides various feature which makes firm run their business without any problem, one such feature is auto-attendant and auto-IVR which comes with 3CX so let's dive into it and comprehend auto-attendant and learn how to set up auto-IVR. Team IHA stands for I Have Answer and to offer what is being said, you could read regular updates and information about 3CX here. Still have any doubt, get in touch with the best 3CX Business Provider.
What is an Auto-Attendant?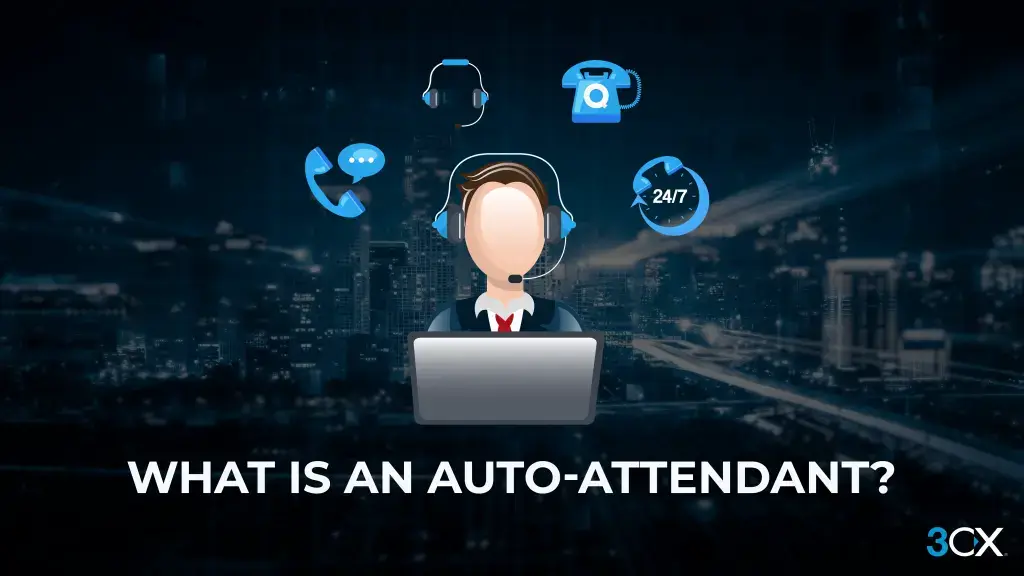 Automated attendant system (auto-attendant) or Virtual Receptionist the term is used commonly in telephony to describe a Voice Menu System and in business phone systems or call centers is the desired and life-saving feature, which is popular too.
Adding an auto-attendant to your phone system is both economical and convenient for customers. By automating and streamlining the process of answering incoming calls and routing callers to the appropriate person or division, it also takes the position of a human operator. When a live operator is not present, it can also help with incoming calls outside of regular business hours.
What are Auto Attendant features?
Every auto-attendant is built differently and depends mostly on your phone system. However, the following are some typical best practices that can immediately improve a client's sense of satisfaction and experience:
A dial-by-name directory might be useful when an inbound caller wishes to contact a certain person. To connect with the correct individual, simply follow a straightforward instruction like "Please call the first three letters of the party's first name.
To welcome callers virtual greetings can use a custom greeting. The greetings could be simply uploaded as audio files.
Have you ever heard the phrase, "Please hold to connect to an operator at the beginning of the call," or "press 1 for sales, press 2 for marketing"? The initial sorting of the incoming calls is completed by a menu option that follows a pre-written attendant script. Users can select a particular key to move on to the subsequent action.
The digital receptionist leads callers to the right voicemail to leave a message if any user is not accessible. The easiest way to ensure that all business calls are answered.
There are no restrictions on how many levels the digital attendant feature comes with 3CX can be configured. For instance, selecting 1 transfers the caller to a different "level" of the system, where they are given up to an additional 9 possibilities. The caller can then select another option to continue. With simple steps for small businesses to complex multi-layer configurations.
Why use Digital IVR?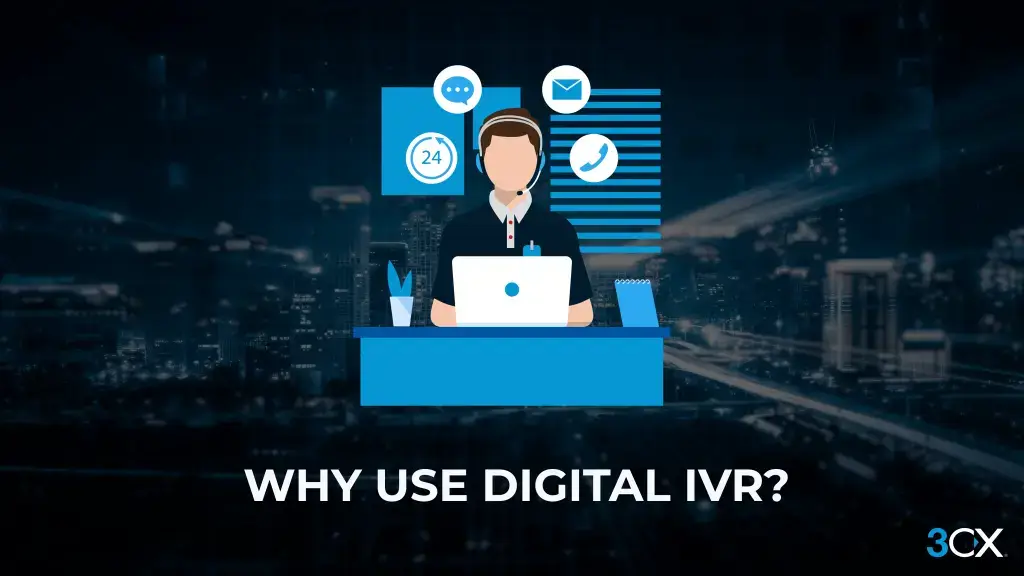 Digital IVR provides various features that can boost your business and make management easy such as;
Improve Customer Experience your caller get all the information they need 24/7
Upgrade Organization Image small organizations could have a much larger workforce.
Fix issues quicker callers are immediately directed to the desired department.
Reduce operational costs by reducing receptionists and human agents.
What is a Call flow?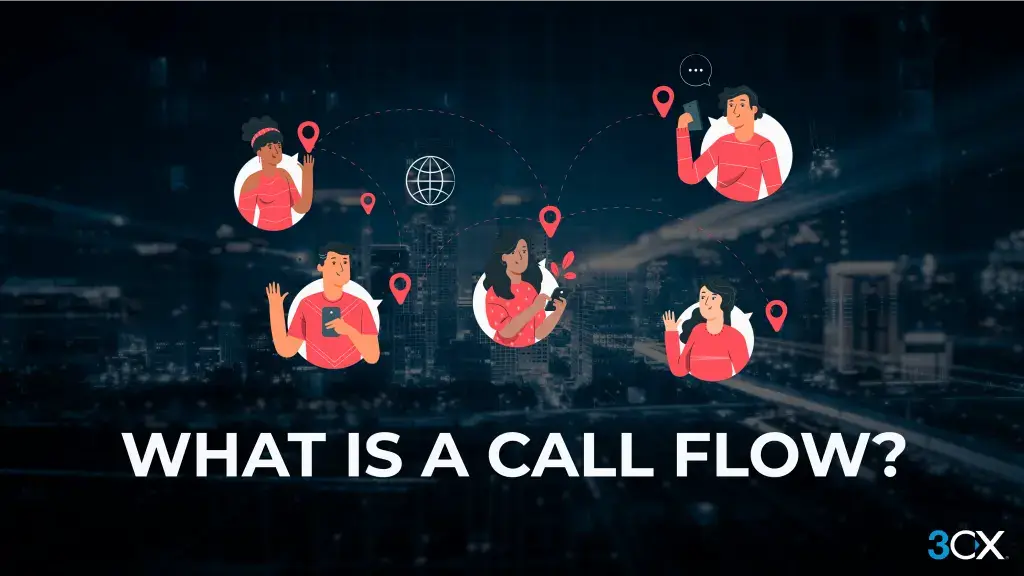 A call flow is a path or pattern that a call takes based on how the phone system has been set up. Ranging from simple flow, up to the full contact center call flows that interrogate databases and CRM systems.
For instance, the system may take a call and request the caller for their entire name and account number. The call flow system will then be able to confirm the caller and transfer the call to the appropriate team to handle the inquiry using speech-to-text technology.
Any company using the PRO and Enterprise edition licenses can use 3CX call designer to develop intelligent call flows according to their needs and requirements. Included features are;
No programming experience is needed thanks to straightforward graphical drag and drop.
Global enterprises can improve customer service by using speech-to-text and text-to-speech technologies that support many languages.
It is possible to set up voice payment gateways to accept secure card payments.
What is a 3CX Digital Receptionist?
Callers can hear an Auto Attendant or IVR (Interactive Voice Response) options menu, such as "For sales, press 1," when a call is automatically answered by the 3CX "Digital Receptionist" function. Press 2 to request assistance or wait to speak with an operator. Digital receptionists can be configured with their extension number and set to answer calls based on the calling number and the time of day, during or after business hours. You could, for instance, have a different prompt for after-hours calls that does not offer to transfer the call to any groups or queues.
How to record a Menu Prompt?
You must first list down and then record the menu choices given to the caller to create your digital receptionist, for example, "Welcome to Company XYZ. Press 1 to reach sales. Press 2 to request assistance or wait for an operator.
Note: it is always advised to announce the number users require to press after the option, for example "for sales, select 1."
How to create a Digital Receptionist?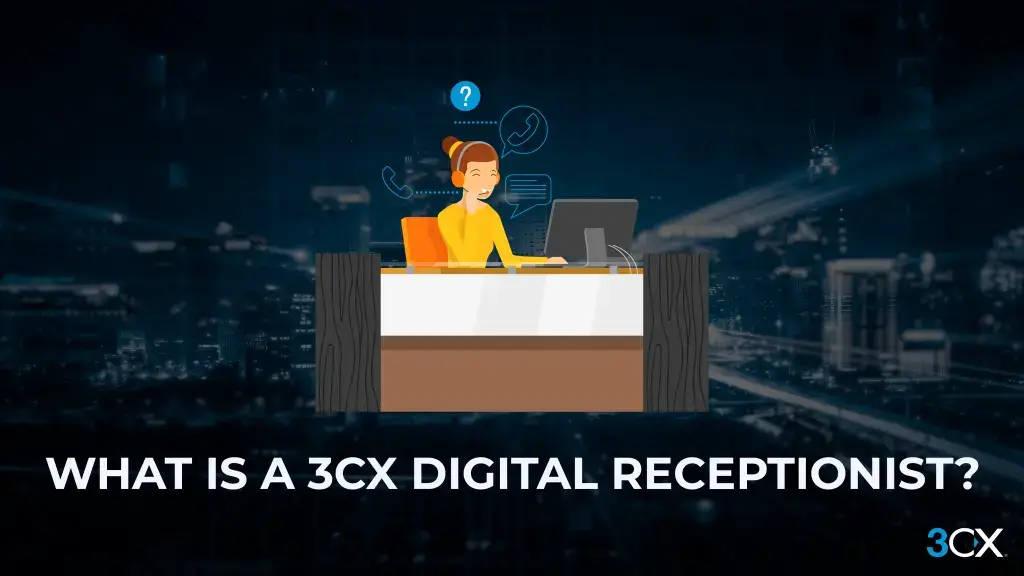 Click on "Digital Receptionist" and then select "Add" in the 3CX Management Console.
For the digital receptionist specify an extension and name.
To record the prompt, click the "Record" button, enter your extension number, and the "Audio File Name," and click "OK." In the prompt filename, avoid using reserved characters ( >: " / |? * &).
Alternatively, you can select a file that was previously recorded as WAV in PCM, 8 kHz, 16-bit, Mono, by clicking the "Add" button. Note: To save to this format in Windows Sound Recorder, select "Save As" from the menu. Avoid using the MP3 format.
If necessary, choose a custom prompt language in "Digital Receptionist Language." or go to "Settings" > "System Prompts" > "Updates," and you can download more prompt languages.
For this Digital Receptionist choose a "type."

"Standard" – specify actions for up to ten (0-9) menu choices, such as connecting to the extension or virtual extension number for a ring group, call queue, virtual receptionist, or voicemail.
"DTMF Input" lets users create their DTMF codes up to nine (9) digits long, such as "010." Choose the action and destination for each choice, such as the extension or virtual extension number for a ring group, call queue, additional virtual receptionist, or voicemail.
"Launch Script" is a feature for advanced users that allows them to launch an external script, collect the caller's input, and then execute a defined action based on the script's exit code. For more information visit the website where daily updates and details bout 3CX are posted.
"Wake up" creates a single Wake Up/Reminder service that hotel visitors can use to dial and program automated wake-up and reminder calls.
You can tether this Digital Receptionist to a DID number.
Set the timeout in seconds and the actions to take on timeout and invalid input under "Destination for invalid or no DTMF input/script timeout."
Lastly, save the digital receptionist by selecting, "ok"
It might go wrong or you could miss out on something here, but to avoid such a situation you could get in touch with Team IHA when you allow us for helping you out, we offer a dedicated accountant and 24/7 support that too free. Team IHA has been serving in the market for 15 years and working with tons of clients worldwide. What are you waiting for?
Dial an Extension Directly
A caller can enter the extension number to call directly and connect to the extension while a digital receptionist prompt is playing rather than going through a receptionist. Simply explain how to use this feature to your callers in the voice prompt, for example, "Welcome to Company XYZ. You can enter the extension number right away if you know it. Otherwise, press 1 for sales and 2 for support.
Call by Name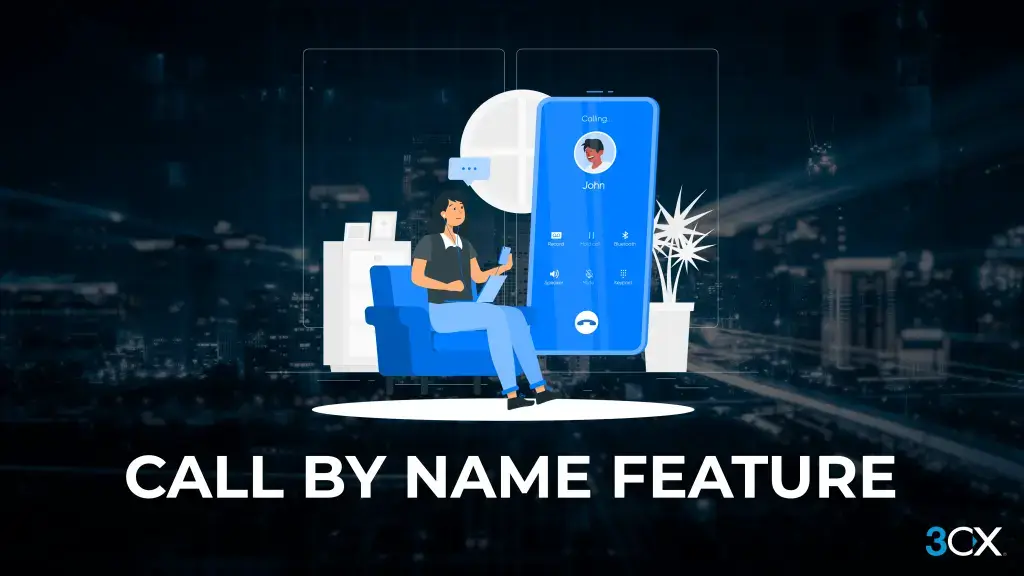 Callers can be directed to the call-by-name function as well. By using the first few letters of the person's first or last name on the phone dial pad, they can locate the person they want to speak to. When using the call by name function, you must:
a message asking the user to identify themselves. Through the call-by-name feature, users without a self-identification message are not accessible.
Users cannot use or have Unicode characters in their first or last name.
A Digital Receptionist must provide the Call-by-name menu option as one of the menu options.
Self Identification Message
To record your self-identification message by your 3CX App, Web client, or IP Phone;
Call the voicemail menu (Default 999).
Type in the PIN for your voicemail.
the "9" key, go to access the options menu.
To record the self-ID message, press the '5' key.
Simply write down your name, such as "Laura Smith."
How does the Call by Name feature work?
The Call-by-Name feature compares the input with the user's first or last name (that has been entered on the phone keypad). There are the following guidelines:
The last name is changed to capital letters.
Except for [2-9] and [A-Z], all symbols are ignored.
The symbols are translated using the following terminology:
'ABC2' > '2'
'DEF3' > '3'
'GHI4' > '4'
'JKL5' > '5'
'MNO6' > '6'
'PQRS7' > '7'
'TUV8' > '8'
'WXYZ9' > '9'
To call a user, the caller must type at least three digits ('0′ to'9'). Although they (0&1) are ignored, the digits "0" and "1" can be used to call people with short last names (for instance, you can type "540" to reach someone with the last name "Li").
IVR searches the phone system database for users who match the three digits entered by the user. "Extension not found" is what you hear if there are no matching users. If only one user matches, the IVR routes the call to the specified extension. The IVR will wait for the caller to enter more digits for two seconds if multiple users match.
In case of more than one matching user, IVR would wait for additional digits, then the caller presses any digit and IVR will this to the current input, and look for the currently matching user. IVR would say "extension not found" if there are no matching users.
The IVR will play: "To call Van Damme press 0" if the user doesn't enter any more digits (2 seconds have passed or "#" has been pressed), and more than one user matches. Press 1 to reach Van Halen. Press pound, (#) to leave. Van Damme and Van Halen are the matching users' self-identification prompt in this example.
Why Team IHA?
Team IHA offers various free services when you opt for Team IHA, such as; 24/7 support, a dedicated accountant, and so on that too free. If you have installed the PBX or want to renew it you can get in touch with Team IHA we have one motto to serve our customers with the best service. After installing PBX based on 3CX many errors can occur or you might want to shift to another feature or update somewhere you can face problems or need to pay a large sum to the technicians and this could happen several times.
Still, with Team IHA you get free lifetime support, Team IHA helps you to reduce cost management and boost your business, without calling we cannot connect right? So click here and request a callback. With top-notch experts, Team IHA which stands for I Have Answer works magnificently to offer the best 3CX Services and solutions. Over a course of time, Team IHA has been leading in the market and working with tons of clients around the world. Team IHA has changed the growth graph for the organization it works for.